Say "Qubool Hai" (I Do) with Sahaye Jewels... Now you must be thinking, "Why would I go to an online brand to shop for my Bridal Jewelry?" or "There are so many Pakistani and Indian Jewelry retailers, why should I pick Sahaye Jewels for my big day!!!!" Read this blog to find the answer...
---
• Blog • Earrings • Necklace • tribal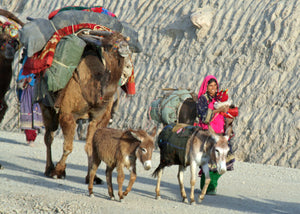 This is Sahaye Jewels' initiative to highlight the craftsmanship of the Kochi People. The 'Kochi' or 'Kuchi' are a group of people that are known to follow a nomadic lifestyle. Originating in Turkey, majority of the Kochi people reside in present day Afghanistan and the rest of them have now displaced all over the world. There is still a small fraction of Kochi people that remain nomadic and migrate from one place to another and there are some tribes that also live in Pakistan.